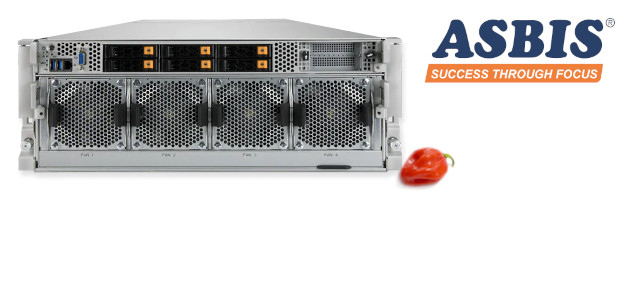 Product Line Sales Manager
Value added – Servers
With over 2600 employees in 28 subsidiaries across the EMEA region, ASBIS is a pre-eminent global value add distributor, OEM, and solutions provider. We are distinguished by our in-depth industry insight and 32+ years of experience as a reliable global partner for clients and suppliers.
We are proud of being one of the certified companies by Great Place to Work®, the global authority on workplace culture, as we believe that our true asset is people. ASBIS invests a lot to create a workplace where every employee has consistently positive experience, professional growth, and appropriate support to unlock their potential and build a future with the Company
Whatever your area of expertise and specialization, you will find a range of career opportunities at ASBIS
About the position
The new colleague will work within the newly extended Value Added international sales and engineering team focusing on promoting Servers and related solutions to integrators and customers. The colleague is responsible for supporting the business growth to reach the sales target with strong cooperation of the producers and suppliers of the brands, such as Supermicro, Intel, Gigabyte, ASUS, Tyan.
Key functions
You will be responsible for promotion of Servers for building and expansion of the partner network;
You will be working closely with suppliers and central product managers of the ASBIS Group, as well as with our current and new clients/vendors – having focus on building long-term relationships and providing support across all Server projects;
Managing the pre-sales activities including project design, preparation of specifications, pricing, solution presentations for partners and business end users;
Participation in the organization of marketing and training activities;
Implementation of the sales plan for Servers and related solutions;
Monitor and analyze the market trend and competitors.
Qualification and skills
3+ years experience in complex solution/IT project sales;
A desire and ability to launch new innovative Server vendors;
Experience in designing and selling "servers & storage" blocks - you will succeed in this role;
Confident approach in communication & negotiation;
Proven track record of delivering formal and informal training material and technical presentations aimed at educating customers, partners, or sales teams;
English at minimum intermediate level, and fluent Hungarian.
We offer
Opportunity to work for a financially strong, fast-growing multinational company;
Constant interaction with global teams of professionals;
International career opportunities;
Access to continuous professional development: training, certification programs, events, and team buildings;
Competitive salary package and motivation scheme;
Special prices for the Company products;
Supportive and enthusiastic team in the 13rd district;
Work from home option.
We are on a mission to bring technology to everyone and are looking for new colleagues. Are you the one? Apply now.
By applying for the above position, you will confirm that you have reviewed and agreed to our Privacy Notice
Please be informed that in accordance with the General Data Protection Regulation (GDPR) No. 2016/679 of 27 April 2016, adopted by the European Parliament, the Council of the European Union and the European Commission, which came enter into force on 25 May 2018, the Company needs your consent for the processing of your personal data for further cooperation.
If you are interested in working with us, please send your CV to allas@asbis.hu.