BUY ONLINE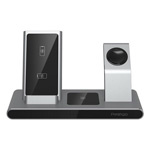 ReVolt A9
In our modern, fast-paced life, quick and low-effort charging of smartphones, headphones, watches, and other devices — without tangling wires, hefty power banks, and socket searching — is crucial. Prestigio offers an elegant solution represented by ReVolt A7, a wireless charging station that can charge up to three devices at a time.
With just one device you can charge iPhone, Apple Watch, and AirPods batteries. Prestigio works for not just Apple products but any device that supports Qi wireless chargers.
ReVolt A7 optimizes home or office space, helping you forget snakes of wires and hunting for charging sockets. An LED light indicates when charging is complete. Revolt A7 can even charge a device in a case up to 4 mm thick. As a cherry on top, the station can serve up to 3 devices simultaneously.
Prestigio's brand new charging station is more than handy. Since it can charge a smartphone no matter how it is placed (vertically or horizontally), you don't have to stop watching or talking while charging.
Stylish design, functionality, and zero-cable operation turn Revolt A7 into an essential home and office assistant for everyone who values their time and comfort.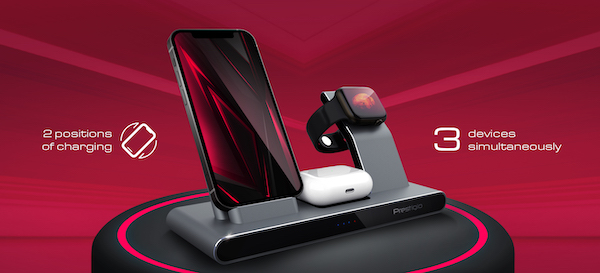 About Prestigio
Prestigio is an international brand that has been offering a wide range of consumer electronics for home, education, and business for more than 20 years. The company sells products in 30 countries around the world, with over 25 million devices sold during its history.
The brand's products include smart devices and accessories, innovative solutions for business and education. Prestigio introduced the world's first interactive keyboard with touchpad on keys, as well as smart speakers, portable acoustic systems, hidden wireless chargers, graphene-based power banks, and this is just the beginning. The company's slogan for launching new products is 'The art of hi-tech', as special attention is paid to innovation, high-quality premium materials, and modern technology.
The Prestigio brand is owned by ASBISC Enterprises Plc., one of the leading IT product distributors in the EMEA markets. It has production, design, and technical facilities in Europe, China, and Belarus. Prestigio has offices in 15 countries in various regions, including the CIS, Ukraine, Europe, Middle East, and Africa.